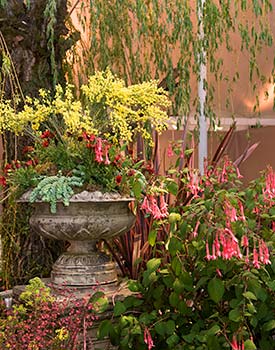 Friday – Sunday, April 17 – 19, 2015, 10 a.m. – 5 p.m.
Preview evening, Thursday, April 16, 2015
Looking for something midcentury? Unusual botanical art? Inspiration for your own garden? The Garden, Antique & Design Show is a great resource, with more than 120 exhibitors from all over the country (plus England) and treasures to be found in every price range.
Treasure hunting in style
It amazes us every year to see how the galleries and halls of the Regenstein Center are transformed by the vendors' booths. Tents over the Esplanade, Krasberg Rose Garden, and Runnells and Searle Courtyards increase the Show space to a fun-to-explore 21,600 square feet.
Need to take a break? Three mini-cafés offer food and beverages, and Bonterra Organic Vineyards will be serving samples of their organically grown wines!