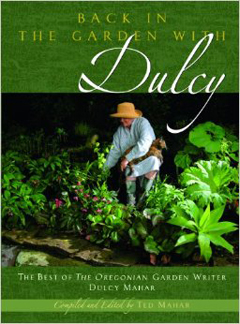 Decorated boards, 262 pp., $22.95.

For more than 22 years, Dulcy Mahar delighted and encouraged gardeners with her column in The Oregonian. I must admit that I had never heard of Dulcy. So, as Peggy McMullen, Editor of The Oregonian's "Homes & Gardens of the Northwest" states in her Foreword "To those who never had a chance to meet Dulcy or read her columns before, step into her world. You're in for a treat." And a treat it is, beginning with the Preface written by Douglas Wilson, her garden helper and co-conspirator, first dubbed "Doug the Wonder Boy" and as he matured, "Doug the Wonder Guy." Her husband, Ted Mahar's wonderful Introduction recounting his love for and life with Dulcy, gives you an insight into this remarkable woman.  

The book contains eight parts which include 140 columns from various years covering subjects such as Plant Lust, Garden Design, Mistakes, Mishaps and Do-Overs, and The Dulcy Touch. This last section contains some of the most charming, irreverent and personal comments summarized by Dulcy on p. 216: "A garden should be fun, and for some of us, fun is a chance to be unrestrained and silly." There are also 140 photographs of Dulcy, Ted, Doug, various pet cats and dogs, Dulcy's whimsical garden statuary and always great examples of her gardening skills and philosophy. When Dulcy died in 2011 at the age of 69, her readers urged her husband to publish a book with many of her best columns. Whether you are a serious gardener or not, this book will brighten your day. You can open it at any page and find the spirit of Dulcy, or as Doug ends his Preface "Sometimes she is the fluttering white butterfly that follows me through the garden." - Joan Richards, volunteer, Chicago Botanic Garden.