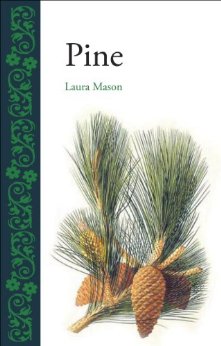 Decorated boards, 214 pp., $27.00.

This is another book in a fascinating series by Reaktion Books, integrating horticultural and botanical writing, with a broader account of the cultural and social effects of trees, plants, and flowers. Pine recounts the natural history of pine trees as trees of wind (distributes its pollen), fire (often lightning), and light (torches that have lit the way). Over the centuries, especially from Chinese and Japanese drawings, a cult of wisdom and longevity has arisen about them. The importance of these trees cannot be overlooked in the age of plastics. Pine nuts from cones are an important food source. Pitch, turpentine, and rosin are by-products from the sap that have helped build seaworthy vessels. Lumber from the trees themselves is incorporated into buildings, furniture, and paper. Pine trees have inspired artists and photographers. This book provides a holistic and novel survey of pines around the world in art and nature.
- Adele Kleine, volunteer, Chicago Botanic Garden.