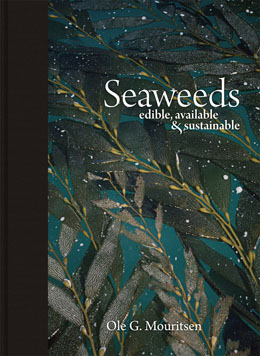 Publisher:
University of Chicago Press
cloth, 287 pp., $35.00.

Approaching the subject from both gastronomic and scientific points of view, Ole Mouritsen examines the past and present uses of a sustainable treasure, seaweed. Because seaweed can be cultivated in large quantities in highly sustainable ways, it is ideal for battling both hunger and obesity. Seaweed has been used as a food source by humans since prehistoric times. This is a fascinating book, filled with illustrations of algae and examples of seaweed cuisine. Mouritsen, a professor of biophysics at the University of Southern Denmark, describes the integration of seaweed into Japanese culture, best illustrated by Utagawa Hiroshige's (1797–1858) famous print of women harvesting seaweed. Mouritsen includes a recipe for lemon cake with sea lettuce and ice cream with simmered kelp among many others to tantalize his readers. This book, with photographs by Jonas Drotner Mouritsen and translated by Mariela Johansen, will open your eyes to another world, where seaweed is valued and cherished.
- Adele Kleine, garden writer and volunteer, Chicago Botanic Garden.