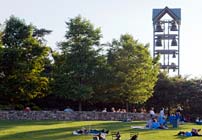 Wylie Crawford, Chicago, Illinois
Monday, August 25, 7 p.m.
Preconcert carillon tours and demonstrations 5:30 to 6:30 p.m. (every 15 minutes)
Wylie Crawford is the resident carillonneur for the Chicago Botanic Garden, the university carillonneur at the University of Chicago, and was the first city carillonneur for the Millennium Carillon in Naperville. He has given carillon recitals in Belgium, Canada, Denmark, France, Japan, Mexico, the Netherlands, Sweden, and the United States. He is the president of the World Carillon Federation and previously served as treasurer.
He fulfilled the requirements of the Guild of Carillonneurs in North America (GCNA) to become a certified carillonneur in 1977.  He previously served as its vice president and is now both the chair of its membership committee and member of its public relations committee.
With an undergraduate degree in physics and a graduate degree in teaching from the University of Chicago, Crawford initiated the first regular carillon instruction program at four Chicago-area carillons. Also, he is the president of Compassionate Computing, a computer training and support organization.