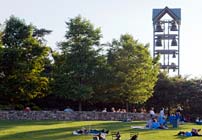 Jim Fackenthal, Chicago, Illinois
Monday, June 30, 7 p.m.
Preconcert carillon tours and demonstrations 5:30 to 6:30 p.m. (every 15 minutes)
Jim Fackenthal is the assistant carillonneur at the University of Chicago. He has played numerous carillon recitals throughout North America and at international festivals. He has served on several committees of the Guild of Carillonneurs in North America including the Board of Directors and the examination jury.