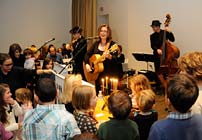 Sunday, December 6, 2015
11 a.m. and 1 p.m.
Alsdorf Auditorium

Advance Tickets: member/nonmember: $15/$17
Day-of: member/nonmember: $18/$20
Children 2 and under are free. Standard parking fees apply.

"Get everyone into the spirit," "Kids love it," "Amazing talent."

The clarinet swings, voices rise, everyone is dancing! Rabbi Joe Black and the Maxwell Street Klezmer Band will perform festive two one-hour concerts. Buy tickets in advance and save over ten percent. Ticket price includes concert and a visit to Wonderland Express.

Extend your visit to the Garden with a delicious brunch at the Garden View Café.