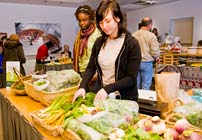 Sunday, December 6, 2015
10 a.m. – 4 p.m.
Burnstein Hall

Do you need some last-minute holiday gifts? Visit the Holiday Market, where vendors will offer products such as locally made jams, soaps, honey, and more.
Holiday Market Vendors:
Faiths Farm

Xanadu Apiary

Wild Flour Bakery

DTB Woodworks

Bushel & Pecks

Greta's Goats

Spark of the Heart

Rushing Waters Fisheries

Tomato Mountain

Toffee Traditions

Tuscan Hen Foods

Holcomb Hollow

Secret Creek Pesto

Abbey Brown Soaps

Visit our outdoor Farmers' Market in summer and fall.