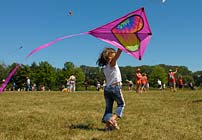 Saturday and Sunday
August 10 and 11, 2013
11 a.m. to 4 p.m.
Kite-Flying Performances and Kite-Making Workshops
In the open area near Evening Island, enjoy soaring stunt-kite performances set to music by members of the Chicago Fire Kite Team and members of the Kite Society of Wisconsin & Illinois.
These high-flying professionals demonstrate awesome feats of beauty and great skill. The Chicago Fire Kite Team has been competing and demonstrating team sport kite ballet and precision since 1986. Invited to kite festivals around the world, they have flown in front of friendly crowds in England, France, Japan, Canada, and the United States.
Walk or take the free tram to the Festival. Ice cream, beverages, and many lunch options will be available for purchase on the west meadow.