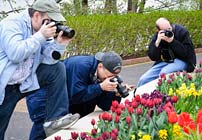 First Saturday of the Month
9 – 10 a.m.
Get expert tips on photographing the natural world of the Chicago Botanic Garden. Photo walk participants meet the first Saturday of each month at 9 a.m. in Alsdorf Auditorium for a brief talk, and then tour the Garden photographing whatever is in bloom. 
Free photo walks are run in conjunction with our ongoing Digital Photo Contest series. Click here to see past Garden photo walk participant photos on SmugMug, or submit your photos to the current contest online at www.chicagobotanic.org/contest. Our meeting schedule for 2014 is as follows below. All walks will meet in Alsdorf Auditorium except for the May 3 walk, which will meet in Annex 1.
| | | |
| --- | --- | --- |
| January 4 |   | July 5 |
| February 1 |   | August 2 |
| March 1 |   | September 6 |
| April 5 |   | October 4 |
| May 3 |   | November 1 |
| June 7 |   | December 6 |
Special Guest Lecture for Saturday April 5, at 9 a.m.
iPhoneography: The Best Camera is the One That is With You! by Jerry Hug
In this hands on workshop, you will learn:
How to take better photos with your iPhone camera 

How to edit these photos with fun and creative results. 

Learn how to organize, store your photos and share with friends and family.
Please bring your iPhone, iPad or iPod touch (fully charged) with the following apps downloaded and installed: Snapseed, Camera Awesome, Touch/Retouch.
Jerry Hug is an award winning photographer and a retired fine arts educator from the Maine Township High Schools in the Chicago Suburbs. He is the Public Relations Vice president for the Photographic Society of America serving 6000 members in the United States and 70 countries around the world. Jerry lectures about photography in the Chicago area and at photographic conventions throughout the country. He is considered one of the go to iPhone photography experts and is published in national journals.