Saturday and Sunday, March 23 –24
11 a.m. – 4 p.m.

Regenstein Center
There are hints of spring everywhere at the Garden—yellow buttercups (winter aconite) outside the Regenstein Fruit & Vegetable Garden, happily singing birds in the morning, and green sprouts popping up everywhere. But the sure sign that spring is really here is when the Malott Japanese Garden Spring Weekend unfolds. This year's weekend festival will be our sixth annual celebration.
Join us on March 23 and 24 from 11 a.m. to 4 p.m. in the Regenstein Center. It is just one of many programs we offer year-round in connection with the Elizabeth Hubert Malott Japanese Garden, including Family Sundays during the summer, the Children's Festival in May, and the Summer Festival in August.
| | |
| --- | --- |
| Members of the Chicago Koto Group perform traditional Japanese songs. | Pick from designs like cherry blossoms or dragons to decorate your own scroll. |
The Spring Weekend is inspired by the change of seasons and the traditional Japanese cherry blossom festival, sakura matsuri. Each spring in the United States and Japan, families attend hanami, or cherry blossom viewing parties. Some years, the variegated pink blooms provide several weeks of enjoyment, but in other years, wind and rain knock blossoms down, and there is only a quick celebration.
Come enjoy a new part of this year's weekend—a tea ceremony demonstration. The Urasenke Chicago Association will present the Japanese Way of Tea. The ceremony is a special Japanese tradition that focuses on the simple beauty of enjoying the taste, sound, and smell of a bowl of tea. You can watch the narrated ceremony at 11:30 a.m. on Sunday only. During the day, families can decorate hanging paper scrolls featuring cherry blossoms, dragons, and more; write a spring haiku poem, or practice raking miniature dry gardens.
Artist Pam Martinez will show you how to make suminagashi (marbleized paper) from noon to 2 p.m. You can watch her design beautiful swirling rainbows and create your own to take home. Anne Shimojima, professional storyteller, will transport you to another time and place through her traditional Japanese folktales at 1 p.m. The Chicago Koto Group performs at 2 p.m. on 13-stringed wooden harps, playing songs inspired by spring and the blooming sakura.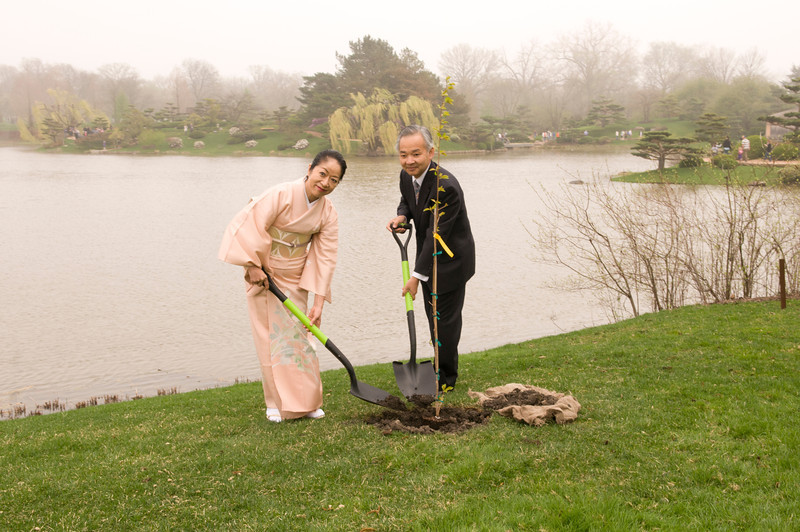 Planting of cherry trees in March 2012.
Don't forget to take a walk to the Malott Japanese Garden and see if you can find both of the karesansui, or dry gardens. Count the lanterns you spy and the bridges you cross. On the way, check out the young cherry trees planted during last year's Spring Weekend. Donated to the Garden from Japan, the trees honor the 100th anniversary of the 1912 cherry tree gift from Japan to Washington, D.C. Our trees are too young to have blossoms yet, but should start blooming next year. They'll have lots of flowers by the time they are 5 years old in 2017.
Celebrate spring with a walk in the Malott Japanese Garden, and with hands-on activities like writing a seasonal haiku, making a cherry blossom hanging scroll, or trying suminagashi (paper marbling). A schedule of events is below.
PERFORMANCE SCHEDULE
11:30 a.m.
Urasenke Chicago Association: Japanese Way of Tea (Sunday only)
Noon - 2 p.m.
Pam Martinez: Interactive Suminagashi Demonstration
1 p.m.
Anne Shimojima: Traditonal Storytelling
2 p.m.
Chicago Koto Group: Koto Harp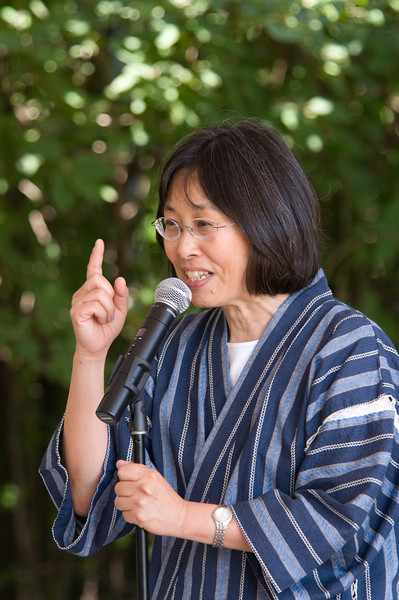 Anne Shimojima shares traditional
Japanese folktales.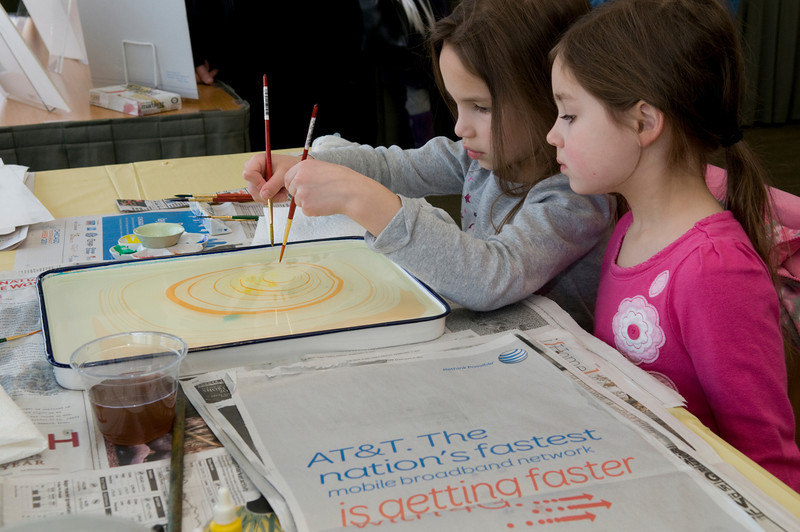 Use a rainbow of colors to make your own
marbleized paper to take home.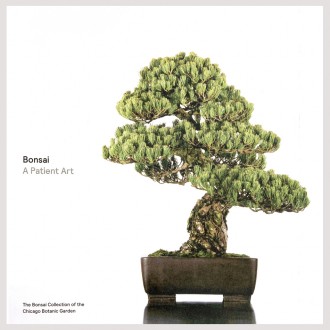 Bonsai: A Patient Art
This book is an exquisite volume devoted to the art of bonsai, featuring the Chicago Botanic Garden's renowned Bonsai Collection. It is available at the Garden Shop and online.