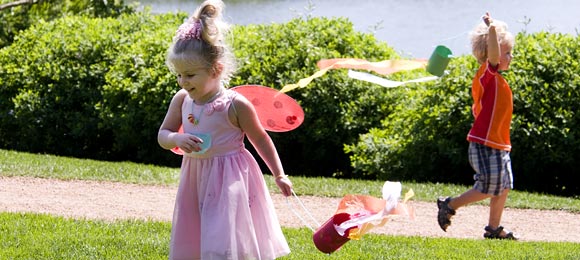 Age 3
Born on or before September 1, 2011
Does your preschooler enjoy digging, planting, discovering, and trying new things?  Our three-day camps (Monday, Wednesday, Friday) invite parents and toddlers to explore the Garden together.  All camps are designed specifically for a 3-year-old's fine and gross motor skills and social development.
Art & Music
July 7, 9, 11
August 4, 6, 8
Preschoolers' creativity will thrive with nature-inspired art and music activities. Engage in clay work, movement, music, and interactive storytelling with your little one at the Garden.

Fantastic Foods
June 23, 25, 27
July 28, 30, August 1
You and your preschooler will discover the different foods that come from plants. Plant an herb garden, practice slicing, pouring, and chopstick skills, and make a fruit salad!

My First Garden
July 14, 16, 18
August 11, 13, 15
Your little gardener will dig, sow, and harvest with our child-sized tools! Grow those gardening skills by digging in the dirt and helping us create a garden!

Small Scientists
June 16, 18, 20
July 21, 23, 25
Preschoolers will be introduced to the parts of a flower; learn about ants and their body parts; and explore wind, water, and worms through developmentally appropriate activities.