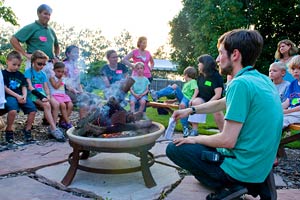 Experience the Chicago Botanic Garden the way few visitors can — by sleeping over! Enjoy a low-stress camping experience, take a nature hike at dusk, cook s'mores around a campfire, sleep outside, and enjoy breakfast in the morning.
Group Campouts
The Garden welcomes both Girl and Boy Scouts as well as other youth groups. Smaller groups of Scouts may be combined with other groups, but a campout cannot exceed 40 children. At least one adult is required to spend the night for every five children, and at least one adult must sleep in each tent. Activities include an evening walk through the Garden and a campfire with s'mores. S'mores and breakfast will be provided. Please plan to spend the night, as the Garden is unable to accommodate evening-only or "undernight" participants.

Campout Dates
Information about 2015 campout dates will be available in February.
REGISTRATION INFORMATION
Scout leaders, please have an estimated head count (both adults and children) for your group when you register. The Garden will accept credit cards or checks for the deposit, due at registration. Please note: upon registering for campouts, you agree to the terms listed in the registration policy.
Please note the rain dates when registering for campouts and inform Scouts about both dates. Campout fees will only be refunded if both the original date AND the rain date are cancelled by the Youth Coordinator.
SCOUT CAMPOUT FEES
$45 per child
$15 per adult
Groups must pay a $200 deposit is due at the time of booking; final head count and payment are due two weeks before the campout date.
WHAT TO BRING
Bring your tents, sleeping bags, flashlights, and a picnic dinner. Registered participants will receive a full gear list with their confirmation letter and deposit receipt. Dress for the weather. The Garden does not provide any camping gear. Due to limited space in the outdoor classroom, please bring a tent that is appropriate for the size of your group. Please label everything. The Garden is not responsible for lost items.
ACTIVITIES & SCHEDULE
5:15 p.m. Arrive at the Garden
5:30 p.m. Set up tents, eat picnic dinner & explore the space
6:30 p.m. Evening Tram Ride
7 p.m. Garden walk
8:30 p.m. Campfire & s'mores
10 p.m. "Lights out"
7 a.m. Breakfast of bagels, cream cheese, and orange juice
Campout area is located next to parking lot, Scouts must depart by 8 a.m.
INCLEMENT WEATHER
Please note the rain dates when registering. Campout fees will only be refunded if both the original date AND the rain date are cancelled by the Garden. In the event of a rainy forecast, Chicago Botanic Garden staff will contact you Saturday morning to reschedule for the selected rain date. In the event of rain during the night, a covered shelter is available for campers.