Education
Urban Agriculture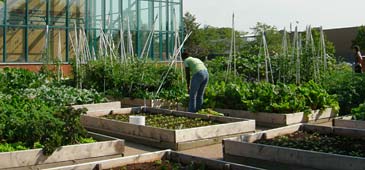 Green Youth Farm

The Green Youth Farm program offers students the opportunity to learn all aspects of organic farming — from planting seeds and starts to managing a hive of bees, from cooking with the food they grow to selling it at farmstands and markets.
Windy City Harvest

Windy City Harvest is an organic-method vegetable- and plant-growing enterprise that provides certificate instruction in sustainable horticulture. It is delivered by the Chicago Botanic Garden in partnership with Richard J. Daley College, one of the City Colleges of Chicago.
Major support for the Chicago Botanic Garden's Community Gardening programs is provided by the Beginning Farmer and Rancher Development Program of the National Institute of Food and Agriculture, USDA as well as the following: anonymous donors, After School Matters, The J.R. Albert Foundation, The Bank of America Charitable Foundation, BMO Harris Bank, City of Chicago Department of Family and Support Services, Cook County Environmental Control Department, Helen V. Froehlich Foundation, Elizabeth Morse Genius Charitable Trust, The Grainger Foundation, Leo S. Guthman Fund, Mondel?z International Foundation, Illinois Department of Commerce and Economic Opportunity, Institute of Museum and Library Services, ITW, JPMorgan Chase Foundation, Midwest Foods, Polk Bros. Foundation, Prince Charitable Trusts, Spear Family Charitable Fund, State Farm Youth Advisory Board, Steans Family Foundation, Walgreens, and the Woman's Board of the Chicago Horticultural Society.
Additional support is provided by anonymous donors, Alvin H. Baum Family Fund, Grace Bersted Foundation, The Brinson Foundation, First Bank of Highland Park, George and Amanda Hanley Foundation, HSBC, Kaplan Foundation Fund/Carol and Ed Kaplan, Kemper Educational and Charitable Fund, Lake Forest Garden Club, Walter S. Mander Foundation, Northern Trust Charitable Trust, Sheridan Foundation, and the United States Department of Housing and Urban Development.
Also contributing are the Albers/Kuhn Family Foundation, Laurance Armour Memorial Trust at the Chicago Community Trust, Benefit Magic, LLC., Charter One Foundation, ComEd, Fields BMW, Walter and Karla Goldschmidt Foundation, Home Depot, Mrs. Meyer's Clean Day, NorthShore University HealthSystem, Sterling Partners, and eight individual donors.