Weekend Family Classes
Weekend Family Class: Tropical Terrarium
Sunday, March 16
9:30 – 11 a.m. or 1 – 2:30 p.m.
New! Gardens come in all shapes and sizes. Visit the Chicago Botanic Garden's three Greenhouses, and learn about what a plant needs to grow and thrive. Then you'll make your own tropical terrarium to bring home.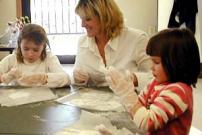 Weekend Family Class: Gumballs & Superballs
Saturday, March 29, or Sunday, April 6
9:30 – 11 a.m. or 1 – 2:30 p.m.
Find out how people use parts of rainforest trees to make chewing gum and rubber. Create your own bouncing ball and flavorful gum to take home.