Education
Green Youth Farm
If you think that no teenager you know would ever be interested in spending 20 hours a week in the blazing sun, surrounded by bees, snakes, and compost…think again! Each year, approximately 60 high-school students ages 15 to 18 work from mid-May through mid-October on three organic farms, earning their summer pay the old-fashioned way.

Read about the farms on Gaper's Block

Visit us on Facebook
The Green Youth Farm program offers students the opportunity to learn all aspects of organic farming — from planting seeds and starts to managing a hive of bees, from cooking with the food they grow to selling it at farmstands and markets (and to the Garden Café, where the chef incorporates the fresh organic produce into many menu items available to Chicago Botanic Garden visitors).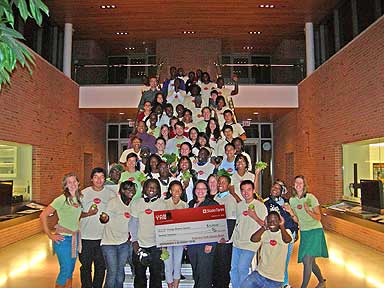 Green Youth Farm students celebrate the grant they were awarded by the State Farm Youth Advisory Board.
Students are paid a stipend for four hours per week in the spring and fall and 20 hours per week in the summer working at the farms, but the benefits they gain far outweigh the wages they earn. By the end of the season, participants have learned how to work together as a team, gained valuable job skills, discovered a whole new way to look at the food they eat, and grown their support system to include supervisors, program coordinators, legislators, and their fellow participants.
The one-acre farm in suburban North Chicago is located in the Greenbelt Forest Preserve off Green Bay Road. The quarter-acre site is in the North Lawndale neighborhood of Chicago, at 3555 West Ogden Avenue. An additional farm was added in 2009 — the Washington Park Farm at Dyett High School at 555 E. 51st Street added an additional three-quarters of an acre of growing space to the farms.
Finally, Chicago Public Schools has hosted the Jr. Green Youth Farm since 2006, currently located at Reavis Elementary School, 834 E. 50th Street, Chicago. This Jr. Green Youth Farm serves 10 to 12 middle-school students after school and for a six-week program during the summer.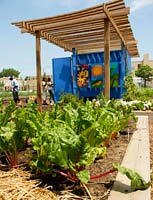 Award Winners
In the fall of 2008, the North Lawndale Green Youth Farm received first place in Mayor Daley's Landscape Awards. Mayor Daley's Landscape Awards recognizes Chicagoans who help make the city green through environmental beautification efforts.
Green Youth Farm is a youth leadership program that builds confidence, teamwork, problem-solving skills, knowledge of business, and a sense of pride and ownership in students ages 15 to 18. "Since the program's inception in 2003, we have watched young people be transformed through their participation in this program, which demands physical and intellectual effort, discipline and teamwork," said Patsy Benveniste, the Chicago Botanic Garden's director of education. "It also gives them confidence in their new-found strength."
Students grow fresh produce, herbs, and flowers at the three farm sites. Participants develop a business and marketing plan, sell produce at local farmers' markets, and manage U-Pick days at the farms, all as part of a motivated team dedicated to sustainable food systems and healthy eating.
"The high-school students in this program come away with real-world work experience, a great deal of learning, and the ability to make a positive impact in their communities," said Angela Mason, the Garden's manager of the Green Youth Farm program. "While weeding, watering, planting, and harvesting, they learn about being part of a team. And they take pride in shaping the farm from the ground up."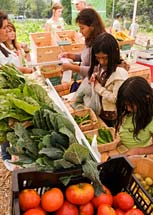 Who's right for Green Youth Farm?
Students from Waukegan High School, North Chicago Community High School, North Lawndale College Prep, Manley Career Academy, Farragut High School, and Dyett High School in Chicago participate in the program. They begin planting in May after school and on weekends, and begin their official summer schedule as soon as school lets out. Students work after school and weekend hours through October.
This program challenges participants in a hands-on, outdoor learning environment that requires physical labor in all weather conditions. Working well with others in small-group situations is important. Students should have an interest in horticulture, agriculture, and plant or food science, plus a passion for and commitment to learning.
Participants prepare food grown at the farms in weekly cooking sessions. Cooking crews bring what they prepare to the North Chicago farm on Tuesdays or Thursdays to share with the planting and harvesting crews and community members, and to discuss various healthy eating topics.
How it works
Job shadowing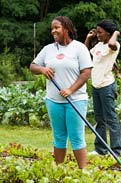 and field trips boost students' understanding of sustainable gardening, vermicomposting, urban farming, nutrition and food preparation, and various green businesses. Training sessions, guest speakers, and entrepreneurial activities provide learning and experience opportunities. Field trips to the Chicago Botanic Garden and Green City Market open up the world of horticulture, plant science, and the culinary arts. Several graduates of past years' programs act as peer leaders, mentoring and leading the new participants.
For more information
If you are a student or parent interested in learning more about the Green Youth Farm program, contact Eliza Fournier at , or (847) 835-8352.
Green Youth Farm is a program of the Chicago Botanic Garden in collaboration with the Lake County Forest Preserve District, Neighborhood Housing Services of Chicago, NeighborSpace, Vocational Rehabilitation Impact Center, Chicago Public Schools, and the Chicago Park District.
Major support for the Chicago Botanic Garden's Community Gardening programs is provided by the Beginning Farmer and Rancher Development Program of the National Institute of Food and Agriculture, USDA as well as the following: anonymous donors, After School Matters, The J.R. Albert Foundation, The Bank of America Charitable Foundation, BMO Harris Bank, City of Chicago Department of Family and Support Services, Cook County Environmental Control Department, Helen V. Froehlich Foundation, Elizabeth Morse Genius Charitable Trust, The Grainger Foundation, Leo S. Guthman Fund, Mondeléz International Foundation, Illinois Department of Commerce and Economic Opportunity, Institute of Museum and Library Services, ITW, JPMorgan Chase Foundation, Midwest Foods, Polk Bros. Foundation, Prince Charitable Trusts, Spear Family Charitable Fund, State Farm Youth Advisory Board, Steans Family Foundation, Walgreens, and the Woman's Board of the Chicago Horticultural Society.
Additional support is provided by anonymous donors, Alvin H. Baum Family Fund, Grace Bersted Foundation, The Brinson Foundation, First Bank of Highland Park, George and Amanda Hanley Foundation, HSBC, Kaplan Foundation Fund/Carol and Ed Kaplan, Kemper Educational and Charitable Fund, Lake Forest Garden Club, Walter S. Mander Foundation, Northern Trust Charitable Trust, Sheridan Foundation, and the United States Department of Housing and Urban Development.
Also contributing are the Albers/Kuhn Family Foundation, Laurance Armour Memorial Trust at the Chicago Community Trust, Benefit Magic, LLC., Charter One Foundation, ComEd, Fields BMW, Walter and Karla Goldschmidt Foundation, Home Depot, Mrs. Meyer's Clean Day, NorthShore University HealthSystem, Sterling Partners, and eight individual donors.