Education
Green Youth Farm
Program Components
Students take at least three day trips during the summer to meet professionals in the field. Field trip destinations include the Chicago Botanic Garden, where Garden professionals talk to students about a range of potential careers, including landscape design, horticultural therapy, and greenhouse production. Field trip destinations for the 2009 season included the following:
Green City Market
Prairie Crossing Learning Farm

Pembroke Farms
Chicago Botanic Garden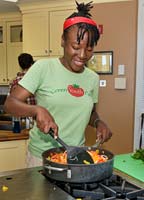 Nutrition Education
Nutrition education is a primary program concern, and students develop an awareness of where food comes from, an appreciation for the energy and resources that go into food production, and an understanding of the benefits of eating locally produced, organic foods. At the same time, they are taught how to make healthy decisions about food. Each participant is required to taste each item grown at their site, and they often discover and enjoy foods they have not tried before. Sixteen-year-old Dexter Sullivan, a North Lawndale Green Youth Farm participant, admitted, "I didn't think anything was going to grow, but everything came up overnight. We planted the typical tomatoes, potatoes, carrots, and cucumbers, but learned about vegetables we had never heard of—like cucumber melons."
Students at Green Youth Farm sites benefit from the tutelage and mentorship of staff who share a passion for great food. Coached by the staff, student teams prepare food harvested from the garden and serve it to their peers. Through this experience, they learn about nutritional benefits and food portions while discovering new food interests and career opportunities.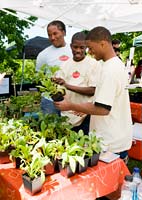 Community Service
One of the program's greatest successes has been fostering a sense of civic pride and community responsibility in participants. Student Theresa King says, "The garden has changed my life in a good way in my mind, because I never felt like helping people out before." Students host "after-market" or "u-pick" days when residents may help themselves to fresh produce, and they have contributed surplus produce to the Chicago Food Depository and the Waukegan Food Pantry. Each year, each farm hosts an open house featuring a community lunch to welcome residents. Students also assist in local community gardens including the Women, Infants and Children (WIC) garden in Waukegan and the African Heritage Garden on Chicago's West Side.
In 2009, the North Chicago GYF enhanced its existing partnership with the Lake County Health Department's WIC (Women, Infacts, Children) office. Green Youth Farm crew members performed straightforward cooking demonstrations each week for the nutrition education classes using the produce they have grown locally and organically at the North Chicago/Waukegan Green Youth Farm site. Following the presentation, students provided a generous variety of farm fresh ingredients from the cooking demo in addition to in-season produce in a market basket complete with recipes for how to use the included produce. The participants could redeem their Farmer's Market coupons right then and there, reducing the strain on their limited transportation budget and time. In 2009, a total of 300 WIC mothers and their children were served by this partnership. Plans are in the works to expand this program to city sites.
The program also seeks to develop an entrepreneurial spirit and skills among its young students. Currently, Garden staff are implementing a winter entrepreneurship club in which some program participants meet weekly from November through May to investigate farm-related business projects.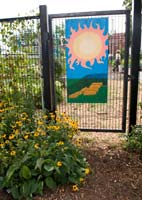 Past projects:
Development of a business plan for making and selling organic baby food
Training and implementation of a tool-sharpening service
Market survey and study of Green Youth Farm markets to enhance product diversity and sales
Compilation and design of a Green Youth Farm cookbook
As an enrichment to the farm work, each farm also participates in the creation of a garden art project. Students spend a significant portion of every week planning a large art installation at each farm with staff and local artists. Former projects have included murals, natural trellises, a cob oven, and mosaic containers.