Education
Green Youth Farm
Student Cookbook & Recipes
The Green Youth Farm cookbook is here! Fresh as the Harvest: A Season of Cooking with Green Youth Farm contains original recipes by participants in the Green Youth Farm program, which has locations at four urban agriculture sites in and around the City of Chicago.
Green Youth Farm participants learn all aspects of organic farming, from planting seeds and starts to managing a hive of bees, from cooking with the food they grow to selling it at farmstands and markets. Now, you can enjoy some of their favorite recipes at home. Below is a sampling of what you'll find inside Fresh as the Harvest.
Buy your copy online today — CLICK HERE!
Pesto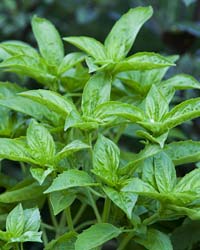 Use with pasta, pizza or as a spread.
Ingredients
3 cups fresh basil leaves (packed)
3 to 4 large garlic cloves
1/3 cup pine nuts
1/3 cup olive oil
1/3 cup parmesan
Salt and pepper to taste
Directions
Place the basil leaves and garlic in a blender or food processor and mince. Add the nuts, if desired, and continue to blend until the nuts are ground.
Drizzle in the olive oil as you keep the machine running. When you have a smooth paste, transfer to a bowl and stir in the parmesan. Season to taste with salt and pepper. To serve, add pesto to hot pasta and toss thoroughly. Allow 2 to 3 tablespoons of pesto per serving.
This pesto can keep for weeks, or even months, if stored in a tightly lidded, sterile jar in the fridge.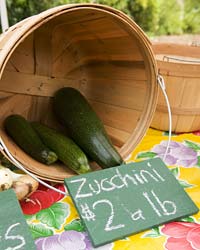 Chocolate Chip Zucchini Bread
Ingredients
3 cups all-purpose flour
½ teaspoon baking powder
1 teaspoon salt
½ teaspoon ground cinnamon
½ teaspoon ground nutmeg
1 teaspoon baking soda
3 eggs
2 cups white sugar
1 cup vegetable oil
2 teaspoons vanilla extract
2 cups grated zucchini
1 cup semi-sweet chocolate chips
1 tablespoon orange zest (optional)
Directions
Preheat oven at 350 degrees F. Grease two 9- x 5-inch loaf pans.
Sift together flour, baking powder, salt, spices, and baking soda.
In a large bowl, beat eggs until light and fluffy. Add sugar and continue beating until well blended. Stir in oil, vanilla, zucchini, chocolate chips, and orange zest. Stir in sifted ingredients. Pour into prepared loaf pans.
Bake for 50 minutes, or until a skewer inserted in the middle comes out clean. Remove loaves from pans and cool. Chill before slicing.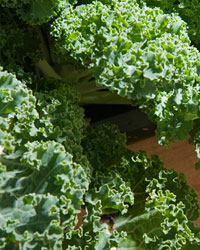 Baked Kale Chips
Ingredients
6 oz kale
1 teaspoon kosher salt
1 tablespoon olive oil
Directions

Green Kale Smoothie
Ingredients
1 nectarine
1 tablespoon of honey
1 banana
1 cup of ice
1-2 handsful of kale (leaves, only, not ribs)
½ cup milk, water, or yogurt
Directions
Blend all ingredients until smooth.