What's in Bloom
What's in Bloom at the Chicago Botanic Garden
August 15, 2014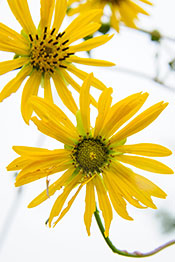 Prairie dock (Silphium terebinthinaceum) is a distinctive native of the tallgrass prairie featuring leafless stems up to 10 feet tall topped by panicles of bright yellow, 3-inch-wide flowers. The leaves—some quite large—form a rosette not more than a couple of feet high that are cordate (heart shaped) and very rough.
Prairie dock is not fussy as to soils or soil moisture content and flowers best in full sun. The taproot can grow as deep as 12 feet and older plants will form offsets a foot or more away from the mother plant. Bees and hummingbirds are frequent pollinators, and goldfinches adore the seeds.
In late summer, both cultivated gardens and native habitats command attention with colorful flowers and bold foliage of species native to the Midwest. Look for giant rose mallows in pink, red and white; fuzzy lavender Joe pye weeds; sweet and purple coneflowers, black-eyed Susans, blazing star, prairie dock and compass plant. Big drifts of ornamental grasses on Evening Island are producing airy panicles, including switch grass, moor grass, feather reed grass and spike grass. In the Fruit and Vegetable Garden, near the entrance are Mammoth Red Rock cabbage and 12-foot broomcorns, growing along with strawberry popcorn and Oaxacan Green dent corn. Magic or surprise lilies are springing up on the little island west of the parking lots, Bulb Garden and in the English Walled Garden.
Take your time and see what you can discover at the Chicago Botanic Garden.