What's in Bloom
What's in Bloom at the Chicago Botanic Garden
November 18, 2013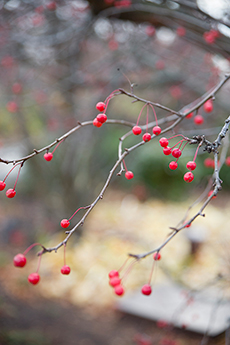 Donald Wyman crabapple (Malus 'Donald Wyman') is covered with hundreds of 3/8-inch, bright red crabapples that persist throughout the winter. Maturing at 20 feet in height by 22 feet in width, this cultivar also features 1.75-inch fragrant white flowers in spring, and disease-resistant foliage throughout the summer. Earlier in the fall, the leaves of this cultivar gave an exquisite amber gold seasonal display.
This crabapple was discovered as a chance seedling at the Arnold Arboretum of Harvard University in the early 1950s and named in honor of Dr. Donald Wyman, who had recently retired as horticulturist at the Arboretum..
Autumn winds have whipped the autumn foliage from trees and shrubs, revealing colorful fruits that will continue to offer interest to visitors and hungry birds. Red-fruited crabapples, cotoneaster and roses; lavender beautyberry and orange-fruited hawthorns decorate many garden areas. Witch hazel is still blooming in the woods and the latest-blooming bulb, Ozawa onion, can still be seen in the Landscape Garden and Bulb Garden. A few perennials continue to bloom within the protective walls of the English Walled Garden.
Take a walk around the Great Basin, where purple and red cotoneaster cascade down the walls, and you can see red-fruited crabapples, yellow grasses, purple asters and fuzzy silver lamb's ears. Fallen leaves reveal the colorful twigs of dogwoods, willows and Japanese kerria.
Come see what colorful surprises you can discover as you take a stroll through the Chicago Botanic Garden.