What's in Bloom
What's in Bloom at the Chicago Botanic Garden
October 1, 2014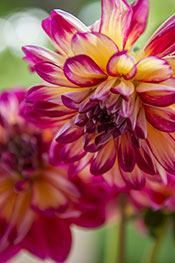 Brittany Rey dahlia (Dahlia 'Brittany Rey') has striking 5-inch blooms of raspberry-fuchsia petals blending to deep golden-yellow near the base of the flower. This cultivar grows to 4.5 feet tall and produces long-stemmed flowers suitable for cutting.
This is a 2009 introduction from Swan Island Dahlias, a leading dahlia grower and breeder in the United States. The company cultivates more than 350 dahlia varieties on 40 acres that are open to the public during blooming season.
Brilliant scarlet and orange sugar maples are heralding the start of autumn. We are also seeing fall color developing on white ashes, sumacs and honeylocusts.
The vivid colors of chrysanthemums, ornamental kale and other cool weather annuals have replaced the tired summer annuals in flower beds. Prominent perennials and vines in bloom include autumn crocus, sedums, monkshood, Tatarian asters, switch grass, sweet autumn clematis and Japanese anemones. The many unusual dahlias in the Bulb Garden and English Walled Garden are still getting attention. Look also for cute and colorful ornamental peppers in the Heritage and Enabling Gardens, including the eye-catching 'Black Pearl'. Take a walk to the Lavin Plant Evalauation Garden and look for Chinese Joe Pye weed, giant ironweed, and many species of panicle hydrangea, bush clovers and Persicaria.
It's time for a cool walk—with a lot to see—at the Chicago Botanic Garden.