What's in Bloom
What's in Bloom at the Chicago Botanic Garden
November 18, 2014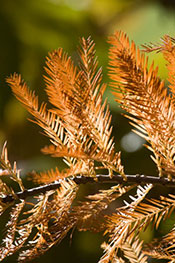 With a narrow, pyramidal habit, bald cypress reaches a mature height of 50' to 70'. Its feathery green leaves are yellow-green in spring, a soft sage green in summer and finally a rich brown in fall. This large specimen deserves a place of prominence in the landscape. When growing in water, old trees develop aerial projections of the roots called "knees." This stately deciduous conifer has one of the widest ranges of distribution, growing from Illinois all the way to Florida.
In spite of frigid temperatures, some trees and shrubs continue to display fall foliage, including willows, Japanese spireas, cotoneaster and viburnums. Deciduous conifers are shedding their needles, with bald cypress turning russet brown and larches sunshine yellow.
Another attraction in late November is the display of brightly colored fruits, enjoyed by both gardeners and birds. Hundreds of crabapples around the Great Basin and throughout the Garden are loaded with red and yellow fruit. Colorful bark and twigs dress up birches, dogwoods and willows. A few species of perennials are hanging on, including Korean chrysanthemums, monkshood, Ozawa onions and a few asters.
Enjoy a brisk walk at the Chicago Botanic Garden.