What's in Bloom
What's in Bloom at the Chicago Botanic Garden
December 1, 2014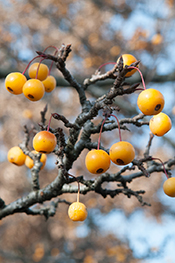 Our Hook's #15 crabapple trees came from Hook's Nursery in 1979, which was located near Lake Zurich and closed in the 1990's. This selection is no longer commercially available.
Crabapples are actively hybridized for flower color, leaf color, fruit size/color, shape and—most importantly—disease resistance. Crabapple fruits are usually not eaten by humans but are beloved by birds.
Take a magical trip to a winter wonderland of twinkling lights and holiday beauty at the Chicago Botanic Garden. The weather outside is frightening, but at Wonderland Express adults and children alike will be delighted with miniature trains running past buildings and landmarks of the Chicago area, landscaped with dwarf firs, spruces, kalanchoes and asparagus fern, with grass and groundcovers represented by club moss and wire vine.
Enjoy the warmth of the greenhouses, decorated with amaryllis and hanging baskets of poinsettias, kalanchoe and Silver Falls dichondra.
Outdoors you can still find displays of brightly colored fruits, enjoyed by both gardeners and birds. Hundreds of crabapples around the Great Basin and throughout the Garden are loaded with red and yellow fruit. Colorful bark and twigs dress up birches, dogwoods and willows.
Enjoy a brisk walk at the Chicago Botanic Garden.