•
•
•
•
•
•
•
•
•
•
•
•
•
•
•
•
Education — Lenhardt Library
Connecting to Collections Bookshelf
A Unique Addition to Help Assess Conservation and Preservation Needs
A valuable reference for librarians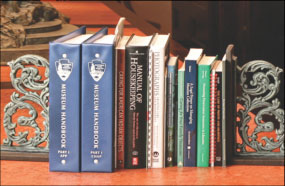 Sixteen very special books from the Institute of Museum and Library Service (IMLS) Connecting to Collections Bookshelf have been awarded to the Garden's Lenhardt Library. The Bookshelf provides small and mid-sized libraries and museums with essential, permanent resources needed to improve the condition of their collections. They are a reference tool for those caring for our nation's collections.
The IMLS Connecting to Collections Bookshelf serves as a valuable tool in determining conservation and preservation needs for all parts of the Lenhardt Library—especially for the Rare Book Collection and the archives of the Chicago Horticultural Society.
The Collection
The IMLS Connecting to Collections Bookshelf is a core set of books, DVDs, online resources, and an annotated bibliography that are essential for the care of collections. The Bookshelf focuses on collections typically found in art or history museums and in libraries' special collections, with an added selection of texts for zoos, aquaria, public gardens, and nature centers.