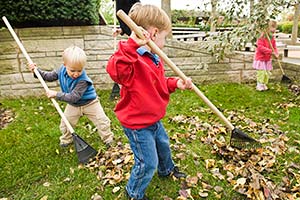 We'll learn about fruits and vegetables, discover animals, experience the changing seasons, and more! Each class begins with an interactive group period, followed by time for children to try a variety of hands-on activities. All classes include a plant potting activity and a walk outdoors or in the Greenhouses (weather permitting).
Become a Garden Plus member today and enjoy a special discount.
 Select Thursday, Friday, or Saturday mornings.
Fall 2014:

Thursdays
September 11, October 9, November 13, and December 11
9:30 – 10:30 a.m.

Fridays
September 12, October 10, November 14, and December 12
9:30 – 10:30 a.m.

Saturdays
September 13, October 11, November 15, and December 13
9:30 – 10:30 a.m.