Nature Nights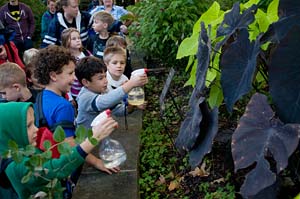 Roam the Garden after hours and uncover the mysteries of nature at night!
Bring a picnic dinner and spend an evening in the Garden! Children ages 4 to 10 and their families will explore different areas of the Garden and enjoy a variety of discovery-based activities. Each Nature Nights also includes a short tram ride, planting project, and s'mores around the campfire. Nature Nights is held rain or shine.
Become a Garden Plus member today and enjoy a special discount.
Nature Nights: Seed Scatter
Saturdays
August 15, 2015 or
September 5, 2015
5 – 7:30 p.m.
New Program! Seeds can't walk, but they sure can get around! Hitchhiking, exploding, and parachuting are just a few ways that plants spread their seeds. Learn how and why seeds need to scatter, make a seed bomb so you can scatter your own seeds, and take home a plant with an interesting dispersal method.

*Don't forget to bring a picnic dinner! Dessert is provided.