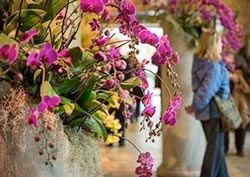 February 14 – March 15, 2015
The Orchid Show is a great opportunity to learn more about the fascinating family Orchidaceae. In addition to the exhibition, stay tuned for a month-long slate of special orchid events and classes.
Photography
Of course you'll be taking pictures! Need inspiration?
There are more than 600 orchid books and resources—including fantastic photos and illustrations—in our Lenhardt Library. Tripods and Monopods are not allowed in the exhibition except for Wednesdays during public hours of the Orchid Show.

After you take your beautiful orchid images enter the Orchid Show photo contest.
Private Photography Rental: Groups of up to 20 people can have exclusive access to the Orchid Show, tripods allowed.
Fee: $300, parking is included
Maximum: 20 people
Contact: (847) 835-6801 
Availability: Saturday, February 14 – Sunday, March 15, for one hour (9 – 10 a.m.)
Click here for Photography walks and classes.
Orchid Marketplace
Every weekend during the show, find orchids for sale and repotting services along with the experience of the Illinois Orchid Society's members.
Click here for our video blog about repotting orchids.
Post-Orchid Show Plant Sale
The post-sale will take open Thursday, March 19, 2015, from 10 a.m. to 2 p.m., and will be open to members only. If orchids are still available to be purchased after the initial sale date, the sale will open to the public on Friday, March 20, while supplies last.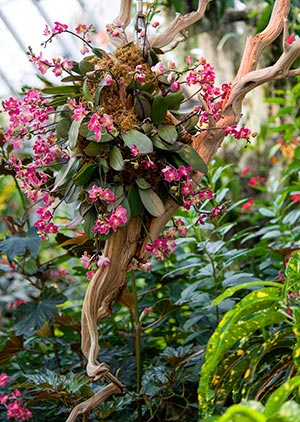 Garden Shop
Orchids will be for sale at the Garden Shop every day during the show, as will orchid-related mementos—books, jewelry, pots, and more.
Learn from the Experts
Ask the Illinois Orchid Society all your orchid questions; society orchid experts will be on hand every weekend during the Orchid Show. On March 7 and 8, the society will hold its annual spring show of judged orchid displays at the Garden in Nichols Hall. (The photographers' hour for the IOS show only will be Sunday, March 8, from 9 to 10 a.m.)
Visit the Orchid Society website.
The Garden's Plant Information Service desk is next to the Lenhardt Library, and will be open 10 a.m. to 2 p.m. on weekdays. We encourage you to stop by and ask a master gardener your orchid questions!
Or send your question by e-mail here.
Whether your orchid knowledge is beginner, advanced, or all about vanilla, there's an orchid class for you at the Joseph Regenstein, Jr. School of the Chicago Botanic Garden.
Click here for class schedule.