Your Garden — Plant Information Service
Plant Information Services at the Garden
Master Gardeners and Horticulture Specialists provide the following services to Garden visitors, Internet clients, and callers on the Plant Information Hotline at (847) 835-0972:
Recommendations on care of trees, shrubs, annuals, perennials, vegetables, fruits, and houseplants
Diagnosis and treatment options for control of insects, diseases, and cultural disorders
General gardening information on soils, composting, pruning, mulching, and more
Plant and insect identification
Recommendations on plant selections for northern Illinois
Assistance with locating purchasing sources for particular plants
Contact us online with your:

Please be sure to read our guidelines for specimen collection and submission if you will be bringing in a sample for diagnosis. If you will be sending images through the online forms above, please send files in one of the requested formats.

Remember! Our diagnosis is only as good as your sample. Please follow our guidelines for collecting and submitting samples in order for us to provide you with accurate answers to your questions.
Question of the Month
Q. Do I need to prune my roses in spring?
A. Early April, or when the forsythia begins to bloom, is a good time to assess how your roses came through the winter, and to determine what their pruning needs might be. Many roses require minimal pruning at this time, primarily to remove dead or winter-damaged wood, whether that is the tip of a cane, or in some cases, the entire cane.
Following exceptionally harsh winters, it may be necessary to prune entire dead canes down to the ground. Dead wood appears black or quite darkened. If you are not sure if the whole cane is dead, start at the tip and slowly prune down until the wood begins to turn green. Use sharp, sterile pruners, either hand pruners or loppers, depending on the size of the canes.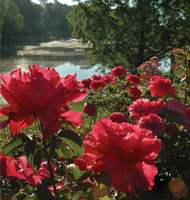 If the roses were affected with fungal problems in past years, it will be necessary to wipe the pruner's blades with a cloth that has been dipped in a 70 percent or greater alcohol solution. This prevents the spread of fungus or disease from shrub to shrub. Make each pruning cut approximately a half-inch above a healthy, outward-facing leaf bud.
Your goal is to encourage new canes to grow away from the center of the plant, not toward the center. Canes that cross or rub against each other should be removed, since the wood will wear away and create an entry point for disease and insects. Tiny broken stems should also be removed. Roses may also be pruned at this time to create an even shape.
For more information on spring rose pruning, check out our informational videos on pruning roses in spring, and pruning climbing roses.
Please contact Plant Information Service at (847) 835-0972 for information about plants.