Saving Plants and the Planet
Conservation at the Garden
Conserving plants is one of the most significant challenges of our time—and a major focus at the Chicago Botanic Garden. From studying soil to banking seeds, from restoring habitats and protecting endangered plant species to developing new ones, Garden scientists are fighting plant extinction, pollution, and climate change through diverse and exciting research.
» About » Staff » Science Annual Report » Garden Blog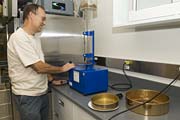 Laboratories
Learn more: Each of the Garden's conservation science labs has a particular focus, but all share the common goal of saving plants though gaining and applying knowledge. The process is both complex and fascinating. Learn more by visiting the Plant Science Center in person—or explore our detailed website. And when you visit, don't forget to visit the building's ecologically friendly Green Roof Garden, which also serves as an evaluation garden.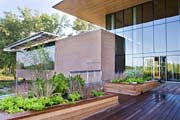 Visit The Plant science center
Learn more: Come visit the Daniel F. and Ada L. Rice Plant Conservation Science Center. When you step into the spacious and welcoming Visitor Gallery, you'll see scientists at work in their labs, and you can learn about each lab through interpretive panels, interactive displays, and hands-on exhibits. Ascend to the Green Roof Garden, with its fascinating array of plants and sweeping views.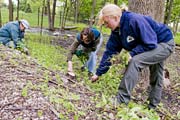 Conservation
Take action: there are so many ways you can help conserve plants and, by extension, help save the planet. Within the confines of your own yard, eliminate invasive plants, add native plants beloved by pollinators, and incorporate green practices in your garden planning, planting, and maintenance. Work on a larger scale by volunteering at the Garden, and consider participating in national efforts like Seeds of Success and Plants of Concern.
Watch interview:

Joan O'Shaughnessy, river and prairie ecologist at the Garden, strives within the one-mile-long urban Skokie River Corridor to develop diverse and sustainable communities of native plants and animals, recognizing that what happens upstream and in the watershed affect this effort.