Adult Education Classes
Certificate Programs
Horticultural Therapy Certificate of Merit Program
January 13 – December 12, 2014
The application process for the 2014 program is now closed. Please check back in June 2014 for the next program cycle.

This exciting, one year college-accredited certificate program combines online learning with two clinical face to face sessions for hands-on training, allowing students to gain experience and skills through participating in one of the premier horticultural therapy programs in the country.

WHO SHOULD PARTICIPATE?

Individuals who wish to achieve competency in creating, delivering, and evaluating plant- and nature-based activities adapted to a variety of functional abilities. You will have honed basic horticultural skills, and you will have an understanding of the theory and delivery methods unique to horticultural therapy.

Garden-trained Horticultural Therapists also work in myriad facilities serving individuals with special needs.

Apply for this program online



For more than 30 years, the Chicago Botanic Garden has been at the forefront of the horticultural therapy field, providing consultation, training, and direct services throughout the country and around the world. We are now partnering with Oakton Community College, recognized as a model two-year college in a recent New York Times article, to offer a unique and innovative professional development program, the Horticultural Therapy Certificate (HTC).
HORTICULTURAL THERAPY
Horticultural therapy (HT) is the professionally directed use of plant, garden, and nature activities to achieve measurable physical and mental health outcomes for clients. Horticultural therapists practice in hospitals, rehabilitation and vocational facilities, skilled care agencies and senior centers, community gardens, botanic gardens, schools, horticultural businesses, prisons, and other settings.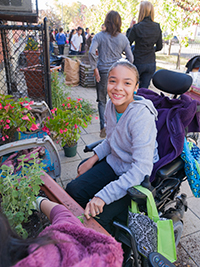 PROGRAM OVERVIEW
The Horticultural Therapy Certificate (HTC)is designed to focus on the development of HT skills and methods. The HTC program combines on-site training at the Chicago Botanic Garden with online distance learning. Upon completing the program, students will be able to explain the evidence basis, efficacy and unique benefits of horticultural therapy and to integrate horticultural therapy activities into current or future health career areas. They will also analyze the critical issues that horticulture therapists consider when planning programs, activities, and site design; and design and facilitate horticultural therapy sessions for individuals or groups.
Maintaining a minimum grade of C in the distance learning portion of class is required for participation in the on-site portion. Students in this curriculum are required to provide their own transportation to Chicago Botanic Garden for both of the 5 day on-site training portions. This is a limited enrollment curriculum.
PROGRAM DESIGN
The HTC program offers unparalleled opportunities for student immersion into the field of horticultural therapy. This unique curriculum combines online distance learning with hands-on training and user-group interaction. This hybrid course design affords working adults flexibility in their schedules and keeps travel at a minimum. All course work is accredited through the Garden's partnership with Oakton Community College. Both face-to-face sessions occur onsite at the Chicago Botanic Garden. No portion of the program is held at the Oakton Community College campus. A detailed schedule for the onsite programming will be sent to students in March and August.

2014 PROGRAM SCHEDULE
Courses
Credit Hours

Online-only course

HTC100 Introduction to Horticulture for Horticultural Therapists**
January 13 – May 9

3

Hybrid course, online and onsite components

HTC101 Health Through Horticulture: Using Plants for Therapeutic Outcomes*
March 17 – June 26

Face-to-Face Session 1
June 9 – 13, Monday – Friday, 9 a.m. to 4 p.m.

4

Hybrid course, online and onsite components

HTC110 Horticultural Therapy Application and Practicum
August – December (exact semester dates TBD)

Face-to-Face Session 2
October 6 – 10, Monday – Friday, 9 a.m. to 4 p.m.

5
*Concurrent enrollment or completion of HTC100 is required for HTC101.
**Students may also provide a transcript indicating fulfillment of a Horticulture credit course for HTC100.
PREREQUISITES
Minimum of 12 college-level credits from a regionally accredited college or university with a minimum grade point average of 2.5 on a 4-point scale or two years of full-time or equivalent professional experience working in settings such as hospitals, rehabilitation and vocational facilities, skilled care agencies and senior centers, community gardens, botanic gardens, schools, horticultural businesses, or prisons (employer verification required).

One year of high school biology or one semester of college biology; minimum grade of C.

Entry level competency for English 101 (EGL 101) as demonstrated by coursework or Oakton's English Writing Assessment Test (WSAT).

Knowledge of and experience with growing plants and/or gardening is strongly encouraged.

Proficiency in basic computer and internet skills is strongly encouraged.
Click here for further program requirements.
PROGRAM OUTCOME
Click here for a list of learning objectives. This certificate is not offered in conjunction with the professional registration requirements through the American Horticultural Therapy Association (AHTA). For all other questions concerning becoming an HTR, please see www.ahta.org.
APPLICATION INFORMATION
The application process for the 2014 session is now closed. Please remit all accompanying documents to:
Chicago Botanic Garden
c/o Amelia Simmons Hurt
1000 Lake Cook Road
Glencoe, IL 60022
PROGRAM TUITION AND FEES
HTC students will receive Oakton Community College's in-district pricing of $93.75 per credit hour for the 2014 Winter/Spring school term. There will be a $300 lab fee assessed for each of the on-site portions in HTC101 and HTC110. Please note that tuition and fees are subject to change without notice. For detailed information regarding Oakton's fee structure visit:
http://www.oakton.edu/admission/costs_financial_aid/tuition_fees/index.php
Tuition and lab fees includes online classroom access, on-site program materials, as well as select meals, and transportation to clinical sites during the face-to-face sessions. Tuition does not include expenses related to travel and lodging during the face-to-face session, text books, and fees required by the college such as one-time application fee, activity fee, construction fee and registration fee. Financial aid is not available for students only enrolled in the HTC program. Payment plans are available through Oakton Community College. Clinical visits may require a health assessment, certain immunizations, and substance abuse testing. These requirements may represent an additional program cost to the student.
REQUIRED TEXTS
Botany for Gardeners by Brian Capon, 3rd Ed, Timber Press, 2010
Horticulture As Therapy: Principles and Practice, By Sharon Simson, Martha Straus
Horticulture Therapy Methods: Making Connections in Health Care, Human Service, And Community Programs, by Rebecca Haller and Christine Kramer
The following required texts and materials can only be purchased through CBG:
Click here for a PDF order form which contains everything required below
Health Through Horticulture: A Guide for Using the Outdoor Garden for Therapeutic Outcomes
Health Through Horticulture Indoor Gardening Activity Plans: An Indoor Gardening Guide for Therapeutic Outcomes
Garden for Life fact sheets, complete set
QUESTIONS
If you have questions about your application or the Horticultural Therapy Certificate Program, please contact Amelia Simmons Hurt at or (847) 835-8293.