Adult Education Classes
Certificate Programs
Horticultural Therapy Certificate of Merit Program
Problem-Based Learning Questions & Answers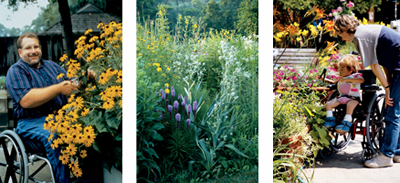 WHAT IS PROBLEM-BASED LEARNING?
Problem-based Learning (PBL) is a constructivist approach to education, based on the theory that learning is best accomplished when information is presented in meaningful, connected patterns rather than as fragmented facts presented in isolation. It uses authentic, complex problems to foster core content knowledge and problem-solving skills. Core characteristics of the PBL model (Barrows, 1996):
Learning is student-centered
Learning occurs in small groups
Teachers are facilitators or guides
Problems form the organizing focus and stimulus for learning
Problems are vehicles for the development of problem-solving skills
New information is acquired through self-directed learning

WHY PBL IS THE CHOSEN VEHICLE FOR THE HTC PROGRAM
Problems expose students to the issues and concerns unique to horticultural therapy, framed in scenarios they will likely experience as practitioners.
The assessment techniques used in a PBL curriculum hone the ability to self-assess, a skill critical to horticultural therapists who often work in situations where there is no senior horticultural therapist supervisor as mentor.
The format promotes self-directed learning, a skill needed when therapists must decide what they need to know and how to seek out that information.
FREQUENTLY ASKED QUESTIONS ABOUT PROBLEM-BASED LEARNING
If the students are responsible for directing the learning in a problem-based curriculum, what does the teacher do?

Unlike the traditional lecture format, where the student easily perceives the 'work' the teacher does each time there is a lecture, the 'work' of problem-based learning has been done well before the student is engaged in the process. The teacher has carefully crafted the problems and once the students are in their working groups, the teacher serves as a subject-matter expert, resource guide, and group facilitator.

If the work is done in groups, how can an individual be fairly judged on his/her performance?

Although all problems will be addressed through group collaboration, there will be checks and balances built into the system that will monitor individual contributions. For example, there will be some required individual assignments and strategies applied to group presentations to minimize the possibility of members not being prepared.