Adult Education Classes
University of Illinois Extension Master Gardener Program
The mission of the University of Illinois Extension Master Gardener program is "Helping Others Learn to Grow." As defined by the University of Illinois Extension Service, Master Gardeners are a group of volunteers trained by University of Illinois Extension educators to provide a network of gardening programs and horticultural activities to educate the public and enhance life in their communities. The volunteer service they provide is vital to the Chicago Botanic Garden and to the community.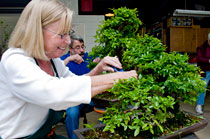 The 60-hour volunteer component is met by volunteering in one of the approved service areas of the Garden. These include Plant Information, interpretive programs, youth and school programs, display gardens, and other areas as needed and approved.
In conjunction with the University of Illinois Extension Service, the Garden offers the Master Gardener Training Program, a ten-week Onsite Training Program that begins in mid-January and is offered every other year, with the next Onsite Training Program scheduled for 2015. It covers the basics of horticulture, including classes on woody and herbaceous ornamental plant materials, fruit and vegetable crops, entomology, and pathology. A fee is charged for the training and includes a training manual.
Training consists of daytime classes once a week for ten weeks. Upon successful completion of the core training and passing the final exam, participants will then become Master Gardener Interns. An intern must fulfill a 60-hour volunteer commitment in order to become a certified University of Illinois Extension Master Gardener.