Education
School Gardening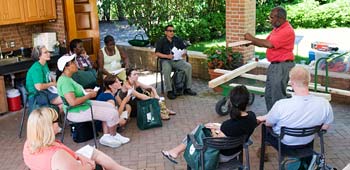 Why garden with your school?
School gardens are sprouting up all over the United States and other countries.
This international interest in school gardens is refocusing education philosophy on an activity that has engaged children since time immemorial.
The Chicago Botanic Garden advocates the use of plant-based learning across the curriculum. This goal is achieved by training teachers to incorporate the use of outdoor gardens, natural settings and plant activities in their classroom lessons. Our goal is to help make plant-based learning a part of every school child's education. To learn more about the value of school gardening, read some testimonials from teachers, and learn the process for starting your own school garden, visit www.schoolgardenwizard.org.

An Overview of Chicago Botanic Garden Programs
Over the past 20-plus years, the Neighborhood Gardens program has assisted groups across the Chicagoland region to plan for, design, install and maintain community and school gardens of all styles, purposes, and sizes. While the means to providing assistance has changed over the years, the Chicago Botanic Garden maintains a strong commitment to gardening with schools because of a belief that a school garden is an important platform for active, interdisciplinary student learning.
The Chicago Botanic Garden currently supports school gardens in several ways:
INTERESTED IN STARTING A SCHOOL GARDEN?
For a detailed description of what steps are necessary to start a school garden, design ideas, and success stories of other school gardens, again we urge you to visit the School Garden Wizard website www.schoolgardenwizard.org. If you are still interested in starting a school garden, and are in the Chicagoland area, Chicago Botanic Garden staff can help you make your school's gardening visions into a real-life outdoor classroom.
Goals
The goals and objectives of the Chicago Botanic Garden's school gardening efforts are to help schools establish and develop the following:
a site leadership team
a working garden for use as a living laboratory to support teaching and learning
a well-trained teaching faculty
a network of school garden projects throughout the city to provide ongoing support
a network of parents who actively participate in garden activities
a student body engaging in active discovery through interdisciplinary learning
Planning and Design
To achieve these objectives, Chicago Botanic Garden staff facilitate a participatory design process with students and teachers prior to garden construction. Meetings with educators and students determine how they wish to use the garden for class activities, where the garden will be located on their school campus, and what features and plants they would like the garden to have. A concept plan is developed from teacher and student ideas to reflect their vision, and this conceptual plan is presented to educators and students for feedback and approval. The school identifies appropriate ownership zones for each classroom wanting to adopt a portion of the garden.
Construction and Planting
Garden construction focuses on building the infrastructure for planting (raised beds, soil preparation, tree planting, etc.). While Garden staff work with contractors to accomplish this phase, teachers and students observe the process through tours and help work out measurements and project materials needs. The second phase of garden construction is planting, which is done by the school's students, teachers, parents, staff and principals with assistance from Chicago Botanic Garden staff. School garden planting days are celebratory events for everyone involved.
Training
Teacher training is integral to the school garden becoming part of the school's culture, and attendance at several teacher workshops is recommended as a supplement to the garden planning process. Supplemental training sessions serve to introduce the curricular connections to the garden and illustrate how to weave garden-based activities into existing curricula. Chicago Botanic Garden educators can help teachers determine how they can modify the activities to fit into or replace their current lesson plan. Ideas for particular disciplines (math, reading comprehension, language arts, art, science, and others) are presented.