Education
Develop Your Own School Garden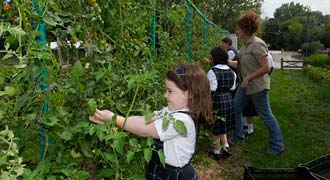 Interested in creating a school garden but not sure where to start? Want to integrate your school garden more completely into your school curriculum? Staff from the Chicago Botanic Garden will visit your site and consult on school garden planning or curriculum integration or both!
For consultation fees and other information, please call (847) 835-6832.
Available Literature
The following items are available through the Chicago Botanic Garden to assist you with creating and sustaining your school garden program. To order, please download an order form and mail or fax order and payment to the information listed on the form.
The Chicago School Garden Initiative:
A Collaborative Model for Developing School Gardens That Work
This 73-page how-to guide covers everything from building support to designing a garden.
($15 each) ORDER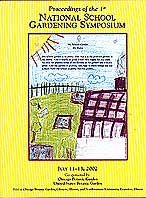 Proceedings of the 1st National School Gardening Symposium
Held on July 11-13, 2002 at the Chicago Botanic Garden, Glencoe, Illinois, and Northwestern University, Evanston, Illinois. Co-sponsored by the Chicago Botanic Garden and the United States Botanic Garden.
($10 each) ORDER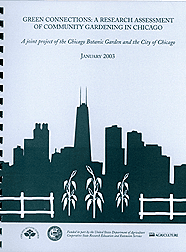 Green Connections: A Research Assessment of Community Gardening in Chicago
A joint project of the Chicago Botanic Garden and the City of Chicago, featuring the results of an in-depth research study that gathered information from Community Gardening leaders and volunteers.
($10 each) ORDER
Recommended Links
These sites provide basic information of interest to teachers and school gardeners:
- School Garden Wizard's www.schoolgardenwizard.org
- National Gardening Association's www.kidsgardening.com
- National Wildlife Federation's www.nwf.org/schoolyard
- Junior Master Gardener Program at www.jmgkids.us
- American Horticultural Society at www.ahs.org/youth_gardening