Education
Support School Gardening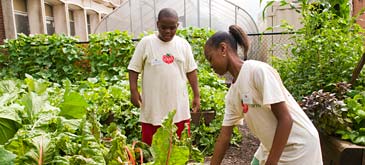 Interested in Supporting School Gardens?
Donations and grants help the school gardening program at the Chicago Botanic Garden to serve thousands of schoolchildren each year.
donate
Donations can help to purchase tools, materials and plants so that schools can benefit from active discovery in their gardens.
Anyone wishing to donate may contribute online or by calling (847) 835-6835.
Volunteering
School garden programs need volunteers to help with activities such as planting days and garden maintenance.This is a great way to get training and support for working in outdoor environments with children. Get your hands dirty and gain some experience assisting us with youth programs! Find out more about volunteering for the Chicago Botanic Garden.
Anyone interested in volunteering may call (847) 835-6800 or apply to be a Garden Assistant.
Sponsorships
Your company can be a part of our growing school gardening program through sponsorship opportunities. As a sponsor, you receive recognition in numerous ways and experience an array of benefits. Sponsorship at the Chicago Botanic Garden offers widespread visibility and promotional value. For more information, call the Sponsorship Department at (847) 835-8342.