Education
Windy City Harvest
Windy City Harvest trains adults in sustainable horticulture and urban agriculture. It is delivered by the Chicago Botanic Garden in partnership with Richard J. Daley College, one of the City Colleges of Chicago.
Windy City Harvest provides instruction in urban agriculture best practices, develops collaborations that benefit communities, and produces high-value, nutritious produce that is sold at retail outlets and made available and affordable for local residents.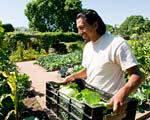 Who participates in the Windy City Harvest Program?
Young adults from the city of Chicago.
What do the students learn?
Participants acquire hands-on experience with sustainable vegetable production and learn essential business skills, including planning, pricing, sales, and marketing.
Students receive six months of hands-on instruction in greenhouse and outdoor growing practices, followed by a three-month paid internship. Up to five graduates will be hired by the Chicago Botanic Garden into five-month paid apprenticeships and will work toward an additional certificate in cool-weather growing techniques in hoophouses and greenhouses.
After satisfactory completion of the curriculum and training requirements, students achieve certification in sustainable urban horticulture and urban agriculture. The certificate from the Richard J. Daley College readies participants for permanent employment in the new "green collar" jobs sector.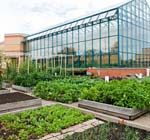 Where does it take place?
Windy City Harvest participants study at the Richard J. Daley College's Arturo Velasquez Institute at 2800 S. Western Avenue in Chicago and other sites. The locations provide state-of-the-art greenhouses, fully equipped classrooms, and high-quality outdoor plant production spaces.
Instructors are certified and trained by Chicago Botanic Garden staff.
What is the future of windy city harvest?
The growing demand from individuals, commercial establishments, and educational and healthcare institutions for sustainably grown local produce holds the promise of a bright future for Windy City Harvest and its graduates.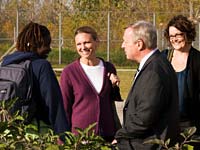 President and CEO Sophia Siskel gives Senator Dick Durbin a tour of Windy City Harvest
Who are the garden's partners in the initiative?
Support for Windy City Harvest has come from neighborhood, community, and civic organizations; educational institutions; governmental agencies; and charitable organizations throughout the Chicago area, the Midwest, and nationally. Leading funders include the Steans Family Foundation, the Searle Funds of the Chicago Community Trust, the USDA, and the Institute for Museum and Library Services. Additional support is provided by Grossinger Chevrolet, Harris Bank, Leo S. Guthman Fund, Polk Bros. Foundation, Sara Lee Foundation, the Siragusa Foundation, HSBC-North America, The Brinson Foundation, and the Kemper Educational and Charitable Fund.
Download the fact sheet about Windy City Harvest
For additional information contact Angela Mason, director of community gardening,
at , or by calling (847) 835-6970.
Major support for the Chicago Botanic Garden's Community Gardening programs is provided by the Beginning Farmer and Rancher Development Program of the National Institute of Food and Agriculture, USDA as well as the following: anonymous donors, After School Matters, The J.R. Albert Foundation, The Bank of America Charitable Foundation, BMO Harris Bank, City of Chicago Department of Family and Support Services, Cook County Environmental Control Department, Helen V. Froehlich Foundation, Elizabeth Morse Genius Charitable Trust, The Grainger Foundation, Leo S. Guthman Fund, Mondelēz International Foundation, Illinois Department of Commerce and Economic Opportunity, Institute of Museum and Library Services, ITW, JPMorgan Chase Foundation, Midwest Foods, Polk Bros. Foundation, Prince Charitable Trusts, Spear Family Charitable Fund, State Farm Youth Advisory Board, Steans Family Foundation, Walgreens, and the Woman's Board of the Chicago Horticultural Society.
Additional support is provided by anonymous donors, Alvin H. Baum Family Fund, Grace Bersted Foundation, The Brinson Foundation, First Bank of Highland Park, George and Amanda Hanley Foundation, HSBC, Kaplan Foundation Fund/Carol and Ed Kaplan, Kemper Educational and Charitable Fund, Lake Forest Garden Club, Walter S. Mander Foundation, Northern Trust Charitable Trust, Sheridan Foundation, and the United States Department of Housing and Urban Development.
Also contributing are the Albers/Kuhn Family Foundation, Laurance Armour Memorial Trust at the Chicago Community Trust, Benefit Magic, LLC., Charter One Foundation, ComEd, Fields BMW, Walter and Karla Goldschmidt Foundation, Home Depot, Mrs. Meyer's Clean Day, NorthShore University HealthSystem, Sterling Partners, and eight individual donors.