November 28, 2014 – January 4, 2015
Open 10 a.m. – 6 p.m. (with exceptions)


TripAdvisor.com: 

"Don't miss!"
Chicago magazine: "The warmest kind of holiday fun."
Examiner.com: "A magical adventure!"
WMAQ-TV: "Fun for the whole family."
Wonderland Express is one of the Chicago area's top holiday "must-sees," and a family-friendly, made-for-memories experience.
Bring the smartphones and video cameras, as our holiday exhibition delights children and parents, friends and families.
Highlights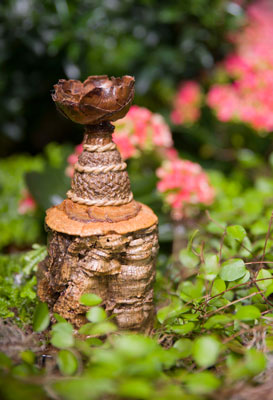 THE COMO INN RETURNS
For Chicagoans, the Como Inn wasn't just a restaurant—it was a beloved family destination that offered great food and a taste of the real Chicago-Italian experience. When it closed in 2001—after playing host to families and friends for 77 years—it became an instant piece of Chicago history. We honor the Como Inn with a new Wonderland Express building.
HAWKS WIN, HAWKS WIN!
The Chicago Blackhawks did the city proud in 2013, with their second Stanley Cup win in just four years! Naturally, our miniature Stanley Cup will be front and center to celebrate.
HANDMADE WREATHS FOR SALE
Limited + exclusive + for sale in the Greenhouse Gallery = holiday wreaths handmade by Chicago Botanic Garden staff members! Why buy a plain wreath when you can hang a one-of-a-kind creation on your front door?
ICE SCULPTING
Fantastic figures emerge as ice sculptors set up shop outdoors, with blocks of ice, chainsaws, and carving tools. Watch their progress with two carving sessions snow or shine. (Bundle up the kids—they love watching the "snow" fly!)
holiday market
Vendors will offer products such as seasonal produce, herbs, wreaths, handmade pottery, honey, and more, on Sunday, December 7.
PLAY SCVNGR: Win a free hot cocoa 
Play our online scavenger hunt at Wonderland Express—just get out your smartphone and download the SCVNGR app from iTunes or Google Play. Answer our four-question challenge correctly to redeem your free cocoa at the Garden Café or Caboose Café. Limit one free cocoa per visitor.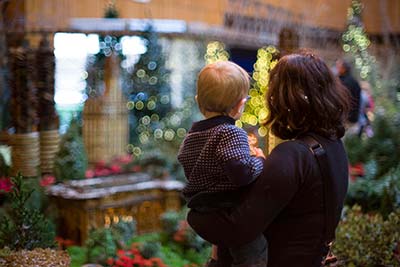 It's a light show!
It's a greenhouse extravaganza!
It's a railroad garden!
It's the city of Chicago in miniature!
It's snowing inside!

Click on the ComEd logo above for details of a special offer for ComEd customers.