Saturday & Sunday, August 23 & 24, 2014
11 a.m. – 4 p.m.
Regenstein Fruit & Vegetable Garden
Get new ideas about everyone's garden favorite, tomatoes, with programs focused on growing and using heirloom varieties. Volunteers and staff will provide tips on growing tomatoes, while seed-saving demonstrations will be held throughout the weekend. Visitors will be able to tour the Regenstein Fruit & Vegetable Garden, ask experts their tomato questions, and shop for tomato-related items in the Wheelbarrow Shop and from select vendors. Family activities include a tomato toss and vegetable printmaking.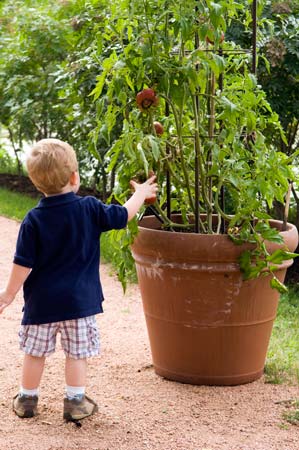 Event Highlights
LEARN FROM THE EXPERTS
Visit the Tomato Discovery Carts, and explore many types of tomatoes you can grow in your home garden. Ask the experts about your tomato problems, and read facts and tips on handwritten signs throughout the exhibit.

ACTIVITIES FOR FAMILIES
Activities range from creating an herb mix for making delicious pasta sauce at home to participating in a tomato toss.
SHOP AT THE MARKET
Purchase a variety of tomato products from an array of vendors, and check out the Wheelbarrow Shop for more goodies.

PLANT GIVEAWAY
We will be handing out free Crimson King basil plants, as long as supplies last.

GARDEN CHEF SERIES
Visit the kitchen amphitheater at 1:30 and 2:30 p.m. for live chef demonstrations.