Present your Garden membership card to save ten percent on regularly priced items.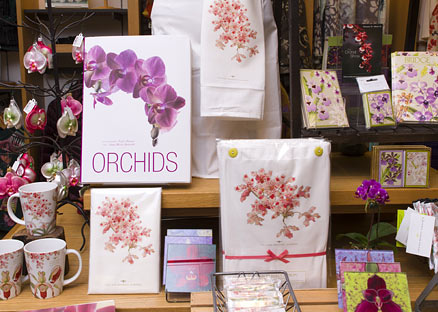 The Garden Shop
Not ready to leave behind the tropical wonder of the first-ever Orchid Show at the Chicago Botanic Garden? Still dazzled by the vibrant spheres of Phalaenopsis orchids? Stop by the Garden Shop for more! The Shop is offering a special selection of Art Inspired by Nature items, featuring images of orchids from the Lenhardt Library's Rare Book Collection. Hurry in for the best selection of orchid-related mementos—books, jewelry, pots, and more—as well as our usual wide array of garden-inspired items. We have something to delight garden enthusiasts of all ages. Your purchase supports the Garden.
Gift and Favor Options
The Chicago Botanic Garden's Garden Shop offers unique gift and favor options for your special event or corporate meeting. The Garden Shop offers a variety of selections. If you don't see what you are looking for, please contact Norma Fernandez, store director.