What's in Bloom
What's in Bloom at the Chicago Botanic Garden
July 17, 2014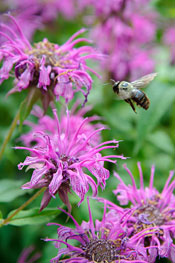 Prairie Gypsy beebalm (Monarda 'Prairie Gypsy') has raspberry pink flowers on 2-foot stems that also feature aromatic foliage. This native plant is a butterfly and hummingbird attractant, but not so beloved by deer. Plant in full sun and moderately fertile, moist soils with space between this plant and others to decrease the incidence of powdery mildew.
Visitors to the Garden can see all their favorite flowers of summer right now including roses, hydrangeas, daylilies, hostas, false goatsbeard, waterlilies, catmint and Russian sage. The Bulb Garden has a brilliant display of dahlias and bloodflower milkweed between spots of true lilies.
If daylilies and hostas are your preference, visit the West Flower Walk, then see the colorful annuals in the Enabling Garden. Along the walk to the Waterfall Garden, see the fluffy pink queen-of-the-prairie and the cute yellow flowers on winged sneezeweed. Up on top of the waterfall look for the six-foot tall glade mallows, with panicle of tiny white flowers.
Enjoy the various fragrances of scented geraniums in the Landscape Garden and English Walled Garden. In the Prairie, yellow compass plants tower over many colorful wildflowers including wild bergamot, wild quinine, perennial sunflowers and culver's root.
Enjoy a summer stroll at the Chicago Botanic Garden.