What's in Bloom
What's in Bloom at the Chicago Botanic Garden
January 1, 2015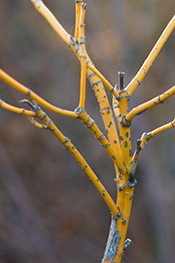 Budd's Yellow Dogwood (Cornus sericea 'Budd's Yellow') is a large, spreading, deciduous shrub with extremely showy yellow twigs, which adds winter interest to the garden. The plant produces creamy white flowers from May through June, giving way to white fruit in the summer. It appreciates full sun to part shade and moist soil. Use as a screen or hedge; it will attract both birds and butterflies. The yellow stems show best color when pruned close to the ground in the spring. To maintain the height of the shrub, prune only one third of the stems each spring.
Enjoy a brisk winter walk and see the ever-changing beauty of the landscapes at the Chicago Botanic Garden. Falling snow brings its own serene beauty as it turns vistas into picture-postcard scenes. Evergreens, ornamental grasses, berries and bark can provide interest even on dull, cloudy days. Red-twig dogwood, the green-stemmed Japanese kerria and yellow willow branches really stand out at this time of year. If we get an extended thaw later in the month, snowdrops may make an appearance.
Take a walk along the east road or around the Great Basin for ever-changing views of the ice-covered lakes and picturesque bridges. When you need to warm up, take a quick trip to the tropics in the Greenhouses. Children and adults alike will be delighted by finding the cocoa tree, bananas, succulents both beautiful and bizarre, prickly cactus and beautiful orchids. In the arid greenhouses look for aloes, jade plant, acacias and jojoba in flower.