What's in Bloom
What's in Bloom at the Chicago Botanic Garden
April 15, 2014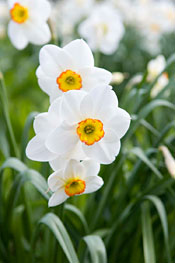 Narcissus 'Actaea' is one of the most well known of the cultivars derived from Narcissus poeticus. Pure white glistening petals, slightly overlapped, are centered by a small, yellow cup with a red rim.
This daffodil is reliably hardy in the Chicago area if planted in well-drained, moist soils, in full sun or light shade.
Even though blooms are very late this year, the gardens are looking a lot better now that spring annuals are being planted. Pansies, Persian buttercups, nemesia and Morocco toadflax are a few of the frost-tolerant flowers brightening the flower beds and containers. Many minor bulbs are appearing, including crocus, glory-of-the-snow, squills, reticulata iris, winter aconite and glory-of-the-snow. Hellebores, also known as Lenten rose or Christmas rose, have large, cupped flowers in purple or white that can withstand spring freezes. Narcissus and species tulips in protected areas are blooming. Woody plants blooming now include witch hazels, Cornelian cherry, forsythia and boxwoods, which are inconspicuous, but fragrant. In the greenhouses, interesting plants in flower include jade vine, yellow bird-of-paradise and yesterday, today and tomorrow (but not next month!) flower.
Come and see spring sprouting at the Chicago Botanic Garden!